Podcast: Play in new window | Download
Elaine Willis, the wife of Missionary Jim Willis, is an amazing missionary widow.  Missionary Jim Willis and his wife Elaine went to Panama as missionaries in 1974.  They were the first Independent Baptist missionaries to go to that country.  Brother Willis was a faithful servant of the Lord, and he passed away on the mission field on Christmas Eve in 2000.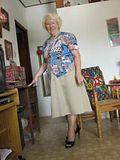 But first let me welcome you back to Missionary on Fire.  I am your host, Missionary Joe Consford, and it is my privilege to get to spend this time with you each week.  God has been doing some great things through this program, and I thank you for being a big part of that!  We have been featured in Revival Fires; in the most recent issue, they published the interview with Rick Martin.  Make sure you subscribe to Revival Fires and look for more of our interviews in that great publication by my friend Dr. Dennis Corle.  You can find out more about Revival Fires by going to their website RevivalFiresPub.org.
After the death of her husband, Mrs. Willis stayed in Panama and has continued to support the nationals that her husband had trained.  She is a great example of a godly wife, mother, homemaker, and missionary!
We first heard about the Willis family while we were students in Oklahoma Baptist College.  Several years before we went to college, a young lady came from Panama to attend Oklahoma Baptist College.  Brenda Santiago was from the Willis' church in Panama.  She finished Bible College and had almost completed deputation to return to her homeland as a single missionary when a man surrendered to go to Panama.  Franklin Booth married Brenda, and they have been serving the Lord in Panama as missionaries for the last fifteen years.
Praise the Lord for the Willis family and for the fruit of their ministry!  You are going to enjoy this interview with Mrs. Willis!
Bible Verse:
Isaiah 54:13
And all thy children shall be taught of the Lord; and great shall be the peace of thy children.
Hebrews 12:1-2
Wherefore seeing we also are compassed about with so great a cloud of witnesses, let us lay aside every weight, and the sin which doth so easily beset us, and let us run with patience the race that is set before us,
Quote:
"God had only one Son, and He made Him a Missionary."
Failure and Lessons:
Mrs. Elaine Willis tells us that she overstepped her bounds as a missionary widow.  The Lord dealt with her in an unusual way.  "What are you doing with my champions?"
She also tells us that the worst mistake that she made as a missionary was to put the nationals before her own family.
Memories:
Mrs. Elaine Willis tells us about the funeral of her husband and all of his converts who were there.
Can you tell us about the moment you realized why God called you to the mission field?
Mrs. Elaine Willis tells us about making the decision to stay on the field as a widow.
Current Burden:
Mrs. Elaine Willis said that her goal is to know Him and make Him known.
What if you were a young person today and felt God calling you to the mission field?
Mrs. Elaine Willis tells us she would go to Bible School, do deputation, and then go to language school before going to the mission field.  Language school has made all the difference.
Resources:
Mrs. Elaine Willis tells us that she was having a hard time with priorities until she got this book.
The Missionary Wife and Her Work by Joy Tunner Tuggle
She learned this list of priorities from this book.
Wife
Mother
Teacher
Homemaker
Missionary
Contact:
Website:
willismissionaries.org
VOIP:
(214) 628 6297
E-Mail:
JEWillis@cwpanama.net
Farewell:
He is coming; so we should be transparent, open, and honest before all men, and we should let God love the unlovable through us.
Thank you for taking the time to listen to Missionary on Fire this week.  If you could take a moment to leave a comment about how this week's missionary testimony has blessed you, I would greatly appreciate it.  To leave a comment on this week's episode, go to MissionaryOnFire.com/019, scroll down to the bottom, and leave your comment there.  If you would rather leave the comment on Facebook, you can visit MissionaryOnFire.com/facebook.  If you use twitter, I have already set up a great tweet for you; all you have to do is go to MissionaryOnFre.com/tweet , and there is a tweet ready for you to send.  If you prefer to send a good old e-mail, the address is feedback@missionaryonfire.com.  I cannot wait to hear from you!
MissionaryOnFire.com is now starting to send a monthly newsletter.  If you would like to sign up for the newsletter, you may do so by going to MissionaryOnFire.com/subscribe.  You do not want to miss a single episode.
Don't forget about Joe's Podcast; go to MissionaryOnFire.com/joespodcast.  In Joe's Podcast, our goal is to help you build a better relationship with us as missionaries.  You can call and ask questions on our voice mail; we will play that recording and answer your question in one of the upcoming episodes.  If you play one of our episodes in your Sunday School class and then have your students ask questions on our voice mail, then you can play the answers in your class and the students will hear their voice and my answer to their question.  It goes a long way to help children get a burden for missions when a missionary takes time to answer their questions.  Try it out and see what I am talking about!  The voice mail number is (936) 553-5234, or if you prefer to send your question by e-mail, the address is feedback@consfords.com.
That brings us to the end of this week's episode of Missionary on Fire.  From our mission field to your mission field, have a great week and God bless!