Podcast: Play in new window | Download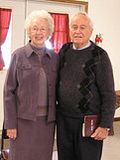 It is my great privilege to introduce you to Frank and Marie Drown! They have been friends of my family for many years, and I am honored to have them as the first guests on Missionary on Fire!
Frank and Marie Drown went to the mission field in 1944, and have done great things for the Lord in these many years. Frank was influential in the the call of God on the life of Roger Youderian. Frank and Roger worked side by side for several years. When Operation Auca seemed to have failed with the deaths of Nate Saint, Jim Elliot, Pete Fleming, Ed McCully, and Roger Youderian, Frank was the one who was called to search for their bodies. It was Frank who prayed and read the Word of God over their hastily dug graves in the jungles of Ecuador. Frank and Marie worked closely with the wives of these men as they worked to reach the headhunters of Ecuador.
I hope you enjoy this interview as much as I did!
Quote:
"Knowing the need of a people that are lost and have no Bible or anyone telling them about the Gospel is enough to make you want to leave home, learn a language, and communicate the Gospel to the people who need it most." – Missionary Frank Drown
Bible Verse:
Matthew 28:18-20
18 And Jesus came and spake unto them, saying, All power is given unto me in heaven and in earth.19 Go ye therefore, and teach all nations, baptizing them in the name of the Father, and of the Son, and of the Holy Ghost:20 Teaching them to observe all things whatsoever I have commanded you: and, lo, I am with you always, even unto the end of the world. Amen.
Failure and Lessons:
Listen as Missionary Frank Drown tells about his first attempt to preach the Gospel to a group of headhunters. He started to tell them about John 3:16 but could not keep their attention. He was able to reach them, but you have to hear him tell how he was able to communicate the Gospel to these people.
Memories:
He has fond memories of many experiences, and he tells us one of his favorites about Chief Santiago! Listen to Missionary Frank Drown tell us how the Gospel changed this man's life.
Can you tell us about the moment you realized why God called you to the mission field?
Missionary Frank Drown thanks God for his childhood experiences of fox hunting and for being short.
Goals as a missionary:
Missionary Frank Drown tells about how the introduction of Missions Aviation greatly improved his ability to reach more people with the gospel. Marie tells us about their prayer that the headhunters would quit headhunting and how Chief Santiago was instrumental in the peace coming to the jungle!
What if you were a young person today and felt God calling you to the mission field?
Missionary Frank Drown tells about how he would prepare to go to the mission field.
Resources:
Through Gates of Splendor

Mission to the Headhunters

John and Betty Stam: A story of triumph

J. Hudson Taylor God's Man in China

The Life and African Exploration of David Livingstone

Contact:
You can contact them to order their books, which I highly recommend reading. Frank is a great story teller! The names of their books are Mission to the Head Hunters and Unmarked Memories.
Frank and Marie Drown
fdrown@avmi.org
(816) 348-7952
http://missiontotheheadhunters.com/
Farewell:
Study God's Word and ask God to speak to us and then just be surrendered to do the will of God no matter where He sends you.
Thank you for taking the time to listen to Missionary on Fire this week. If you could take a moment to leave a comment about how this week's missionary testimony has blessed you, I would greatly appreciate it. To leave a comment on this week's episode, go to MissionaryOnFire.com/002, scroll down to the bottom, and leave your comment there. If you would rather leave the comment on Facebook, you can visit MissionaryOnFire.com/facebook. If you use twitter, I have already set up a great tweet for you; all you have to do is go to MissionaryOnFre.com/tweet , and there is a tweet ready for you to send. If you prefer to send a good old e-mail, the address is feedback@missionaryonfire.com. I cannot wait to hear from you!
MissionaryOnFire.com is now starting to send a monthly newsletter. If you would like to sign up for the newsletter, you may do so by going to MissionaryOnFire.com/subscribe. You do not want to miss a single episode.
Don't forget about Joe's Podcast; go to MissionaryOnFire.com/joespodcast. In Joe's Podcast, our goal is to help you build a better relationship with us as missionaries. You can call and ask questions on our voice mail; we will play that recording and answer your question in one of the upcoming episodes. If you play one of our episodes in your Sunday School class and then have your students ask questions on our voice mail, then you can play the answers in your class and the students will hear their voice and my answer to their question. It goes a long way to help children get a burden for missions when a missionary takes time to answer their questions. Try it out and see what I am talking about! The voice mail number is (936) 553-5234, or if you prefer to send your question by e-mail, the address is feedback@consfords.com.
That brings us to the end of this week's episode of Missionary on Fire.
From our mission field to your mission field, have a great week and God bless!
Missionary Joe Consford